Advertorial - Detiknews

Thursday, 21/06/2012 11:00 pm
Your browser does not support iFrame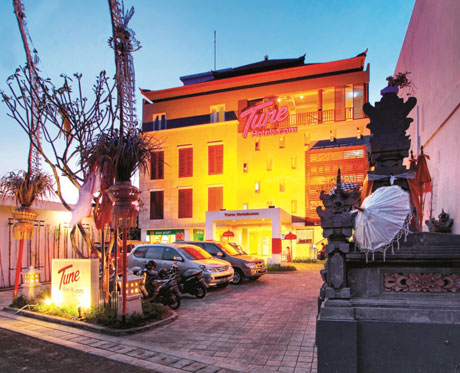 Tune Hotel Jakarta in Jakarta was present. Growing hotel chain Tune Group has previously been spread across five countries, namely Malaysia (main), Indonesia, England, Philippines and Thailand. Since opening in Downtown Kuala Lumpur in 2007, there were 3 million guests who stay at Tune Hotels to late 2011.

Tune Hotel that has won many international awards is popular among tourists who want high quality accommodation at affordable prices. Just as the budget airlines, you only pay for what you need.

Omission of facilities such as meeting rooms, swimming pool, business center and gym, make the Tune Hotel can offer very affordable rates for guests. Guests at Tune Hotel have high-quality basic facilities such as:


    King Koil spring mattress with pillows, pillowcases, sheets and blankets in the living room Double Bedroom Twin and the average area of 11 square meters. Each room is equipped with a fan and outlet.


    Hot and cold shower of high pressure. The bathroom in the room for maximum comfort and privacy


    

Centralized and convenient
    The hotel's location close to shopping centers, tourist sites and business center. Convenience stores, restaurants, food stalls and drink from the well-known network located close to the hotel environment


    Just like a regular hotel, Tune Hotel also provides daily room cleaning service


    Each room using an electronic keycard access, safe deposit box in every room, CCTV cameras throughout the hotel common areas, security personnel alert all day and the main lobby doors can only be accessed with an electronic keycard after midnight

You can book a room and ancillary facilities via online to set up their own as needed. You only pay for what you actually choose and need. Additional features of the Tune Hotel include air conditioning (AC) for the duration of 12 and 24 hours internet connection / wi-fi for the duration of the devices in 24 hours, towels and toiletries.

Before standing in Jakarta, Indonesia Tune Hotel was first established in Legian and Kuta, Bali. Starting July 12, 2012, Tune Hotel will be present at Jl. K.H. No Samanhudi. 25, New Market, Central Jakarta. Tune Hotel Jakarta has 168 rooms consisting of 125 double, 42 twin share and 1 room for guests with special needs.

To find out room rates, additional facilities and many other exciting promotions, you can directly access the official website of Tune Hotel in www.tunehotels.com